Asian Style Superfood Salad.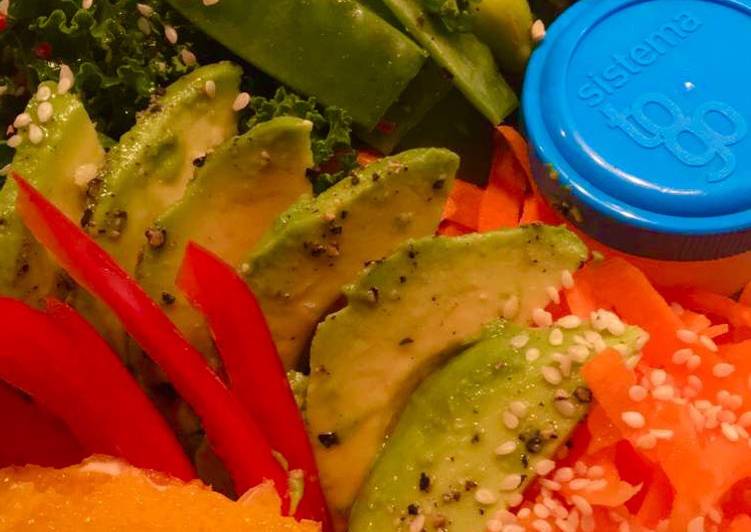 You can have Asian Style Superfood Salad using 13 ingredients and 6 steps. Here is how you achieve it.
Ingredients of Asian Style Superfood Salad
It's 1 of large handful of kurly kale.
Prepare 40 g of serving of Morrisons bulgur wheat, soya and quinoa mix.
It's 1 handful of frozen edamame.
You need 1/2 of avocado.
Prepare 1/4 of red pepper.
You need 1 handful of mange-tout or sugar snap peas.
Prepare 1/2 of carrot.
You need 1/4 of orange.
Prepare 1 tsp of sesame oil.
You need 1 tbsp of reduced salt soy sauce.
You need 1 of small handful of nuts (peanuts/cashews).
It's of Sprinkle of sesame seeds.
You need 1 of small handful of nuts (peanuts/cashews).
Asian Style Superfood Salad step by step
Rinse the grains thoroughly using a sieve and pour them into a saucepan of boiling water. Bring to the boil and then reduce to simmer for a further 10 minutes before draining and ringing in cold water to cool. Run a fork through the grains so they remain fluffy..
Cook the edamame in the microwave. Pour into a small microwaveable container and pour over enough water to cover the beans. Place a lid on and microwave for approximately 3 minutes in an 800W microwave. Once cooked, drain and "shock" the beans with cold water..
While the grains/beans are cooking, peel, wash and chop all of the vegetables/fruits in which ever way you like. I use a Spiralizer user for carrot and slice everything else..
I usually lay the kale in the bottom of a lunch box and squeeze over some lime juice and zest for an added flavour. Then I put the cooled grains, and then separate out the different fruits/vegetables. I also season with a squeeze of lime juice and a sprinkling of flaked chillies for an extra kick. Be sure to squeeze some lime juice over the avocado as it prevents it from turning brown once it has been cut. I find the combination of the mange-tout with a dash of sesame oil is amazing!.
For the dressing, pour the sesame oil, soy sauce remaining lime juice and zest into a small pot with a screw lid. Shake well and taste. Add a few flaked chillies if you like the heat. I really like to add some Thai 7 spice seasoning to the dressing and it works great with the kale!.
Top the salad with some nuts and a sprinkle of sesame seeds. Refrigerate and consume within 1 day..
Related Post "Recipe: Delicious Asian Style Superfood Salad"