Chickpea and chorizo tapas. Crunchy, creamy, chorizo-y—these quick tostadas hit all the notes. If you normally throw the stems from a bunch of cilantro or parsley straight into the garbage. Garbanzo beans, or chickpeas, and chorizo is a classic Spanish dish sometimes served as tapas and sometimes as a full stew.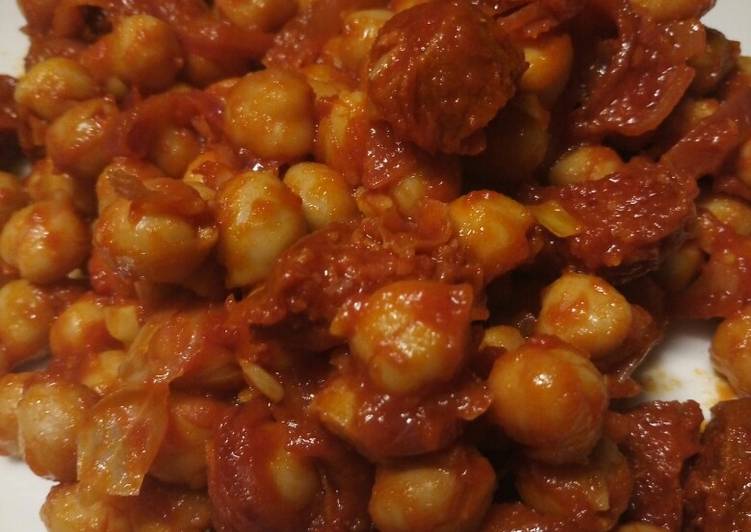 Be the first to review this recipe. Using a small sharp knife, remove the casing from the chorizo sausage. Adding flavoursome, peppery chorizo to a vegetable-packed stew makes a little meat go a long way. You can cook Chickpea and chorizo tapas using 9 ingredients and 3 steps. Here is how you achieve that.
Ingredients of Chickpea and chorizo tapas
Prepare 200 g of chorizo.
You need 200 g of chickpeas.
Prepare of Olive oil.
You need of Red onion.
It's of Garlic.
It's to taste of Paprika.
Prepare 2 spoonfuls of passata.
You need Squeeze of lime.
You need to taste of Salt.
If you're cooking for yourself this dish is great for batch cooking. chorizo sausages. pimentón picante. tinned chickpeas. Where's the full recipe – why can I only see the ingredients? Always check the publication for a full list of ingredients. An Eat Your Books index lists the main ingredients and does not include 'store-cupboard ingredients' (salt, pepper, oil, flour, etc.
Chickpea and chorizo tapas instructions
Chop onion and garlic, fry gently for a few minutes. Add paprika, salt. Remove skin from chorizo, chop and add it to the pan. Cook on medium heat for about 5-6 mins.
Add chickpeas, stir and then add passata. Cook for another 5 minutes then add a squeeze of lime. Enjoy as part of a tapas dinner :).
My tapas dinner 🙂 recipes to follow.
Be the first to write a review! Bring on the vibrant flavors of Spain with a hearty bowl of Garbanzada, a traditional Spanish chickpea soup. Dice the red pepper and chorizo into chickpea-sized chunks and add to the pan with the chickpeas and paprika. Saute everything together until Sprinkle with a little sea salt. Allow to cool slightly before slicing into canape sized cubes or wedges.
Related Post "Recipe: Tasty Chickpea and chorizo tapas"