French onion soup. Stay warm with this GREAT French onion soup! With beef stock base, slow-cooked caramelized onions, French bread, gruyere and Parmesan cheese. Look, French Onion Soup a challenging soup to eat: chunks of chewy cheese and soggy bread floating on top.but it's supposed to be that way.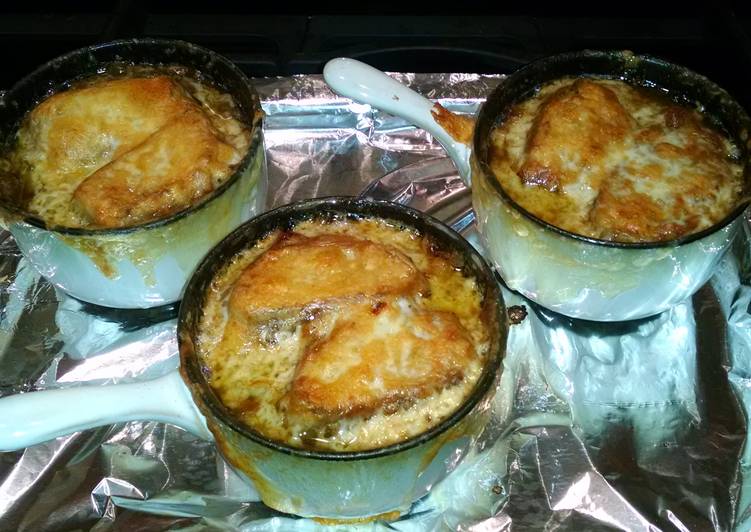 It's easy to make, full of amazing flavor, and can be made vegetarian by using vegetable stock. Making truly authentic French Onion Soup is easier than you think! This wonderful, simple and flavorful soup is the perfect warm dish for winter! You can have French onion soup using 8 ingredients and 6 steps. Here is how you cook it.
Ingredients of French onion soup
Prepare 5 of different types of onions. ones that you like.
You need 1 pinch of salt and pepper to taste.
It's 3-4 cans of beef broth.
Prepare 1 of a healthy squirts of worcetshire.
You need 2 cloves of garlic.
Prepare 2 of tblspn of salted butter.
It's 1 of croutons or crusty bread.
You need 1 of swiss, provolone, or gruyere cheese. whatever floats your boat.
French onion soup is a bistro classic, the most homey and delicious example of good café cooking. But only a handful of frugal ingredients make up this restaurant favorite. A French Onion Soup recipe we heard you say!? No problem, French Guy Cooking to the rescue.
French onion soup instructions
When they are good. Add beef broth or stock.
.
Squirt Worcestershire in. Yum!.
Let simmer for 2 or so hours and your house will smell like heaven.
When ready add soup to ramiken top with bread and melt your cheese in your oven. I do 450 until cheese is gooey and brown and bubbly.
.
Sweet onions, melted cheese and finished with a gnarly top. French Onion Soup is essentially caramelised onion in soup form topped with cheesy bread. French Onion Soup is probably one of the most epic soups in this whole wide world. French Onion Soup is a classic soup recipe for good reason! Sweet caramelized onions are Broiling: French onion soup can be broiled in almost any bowl on low.
Related Post "Easiest Way to Make Perfect French onion soup"